Unravel told a story through a little creature name Yarny by using his yarn to tell the story of taking lost bonds and putting them together while also making new memories along the way. It's though challenges made you stop and think as you learned you to use your yarn to help you swing, climb, and pull objects out of your way with every chapter telling a different the last. Unravel 2's story this time around is not only a different approach of that narrative, but is one that is a lot more fun and all the more challenging as a whole.
With a story that is based on connection based from the previous game Unravel 2 immediately throws that out the window as our beloved friend loses his spark after his yarn is torn right at the start. From there we meet a new friend who right away rekindle that spark and forms a new bond to help you throughout your new journey which you can play side by side with a friend simultaneously or put you in control shifting between both characters alone by pressing the triangle on the (PS4) or Y on (Xbox) you can even hold the same button to hang on to the other character and play as one for tricky situations.
With the new buddy system it adds to a brand new way you maneuver your way through difficult challenges with your new friend being the stopping point between how much yarn you use to make your way in and out of obstacles. Unlike the previous game were yarn check points were your only way of estimating how much yarn and how you should use your limited; it's both easier yet a lot more difficult when you realize you have to get both players to the end point without your yarn being tangled.
Aside from its story you now have a lot more freedom this time around. While the first Unravel was based in a house, Unravel this time is inside a light where you slowly make your way to the top to relight the lighthouse. Along the way for every story challenge you complete there are additional mini puzzle challenges where you and a friend, or just you can test your puzzle solving skills in challenges where your ultimate goal is to reach the end to help rescue one of many of Yarny's friends that are trapped all through the game.
With every friend you rescue you're rewarded with the ability to freely customize both your characters to a variety of colors, body types, eyes, and different shaped heads all allowing you to set your yarn character to how you see fit.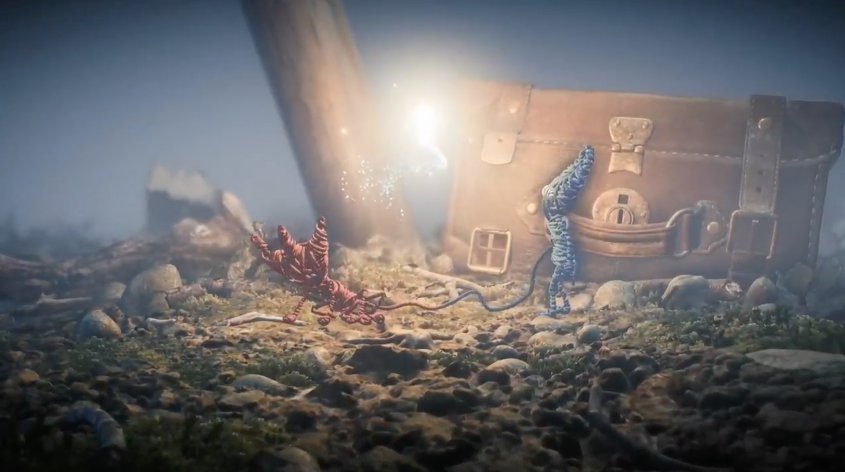 Above all Unravel 2, Yarny and his new friends are as charming, lovable, and enjoyable as ever with a new story of reigniting broken bonds and second chances through two players being the heart and soul of it all. It's vibrant and colorful environment remains the same as it once did by adding more depth, scale, and character telling the story within the story through its mini scenes that play out the further you progress, and the newly redefined play style that forces you to play as a team is what truly stands out when it comes to pushing your skills to the limit. The large variety of obstacles and dangerous areas set a higher slandered really forcing you to pause and use the games slow motion setting to understand what is going on. Successfully getting through each challenge makes the end result worth every minute once you've finally found your way to the end.
From start to finish you always have someone by your side to help you through the rough patches and difficult paths, Whether you're alone or someone to share those memories with Unravel 2 is a game that is a lot more demanding but all the more enjoyable to all and is one that after you've finished will have you wanting to jump back into its challenges to test your skills one more time.
REVIEW CODE: A complimentary Microsoft Xbox One code was provided to Bonus Stage for this review. Please send all review code enquiries to press@4gn.co.uk.
Subscribe to our mailing list
Get the latest game reviews, news, features, and more straight to your inbox
Thank you for subscribing to Bonus Stage.
Something went wrong.
Gameplay -

0/10

Graphics -

0/10

Sound -

0/10

Replay Value -

0/10
Comments Rating
( reviews)