The latest installment in the Doom franchise returns to its action FPS roots, with a wide range of weapons and enemies to utilize them on, making feel like a true return to the franchise.
Doom starts as players escape a sacrificial altar during a recent inexplicable demon invasion, and takes them to the remnants of the now destroyed UAC facility as well as the demon infested realm of Hell that the UAC will stop at nothing to protect from both Demons and Humans.
The game sees the debut of several holographic recreations of characters key to the UAC Mars facility, and the story it tells. These holograms give players an insight into the game's plot as well as the lore of the UAC and their research. However, players are also able to activate holograms that allow them to view past events in the area, allowing them to obtain keys, upgrades, and on occasion arms. Another feature of the game that adds to the lore are the several codex entries players will obtain throughout the title. Each codex entry will give players access to information regarding the story of the subject, as well as showing the player the danger of an enemy adding to the game's depth and strategy.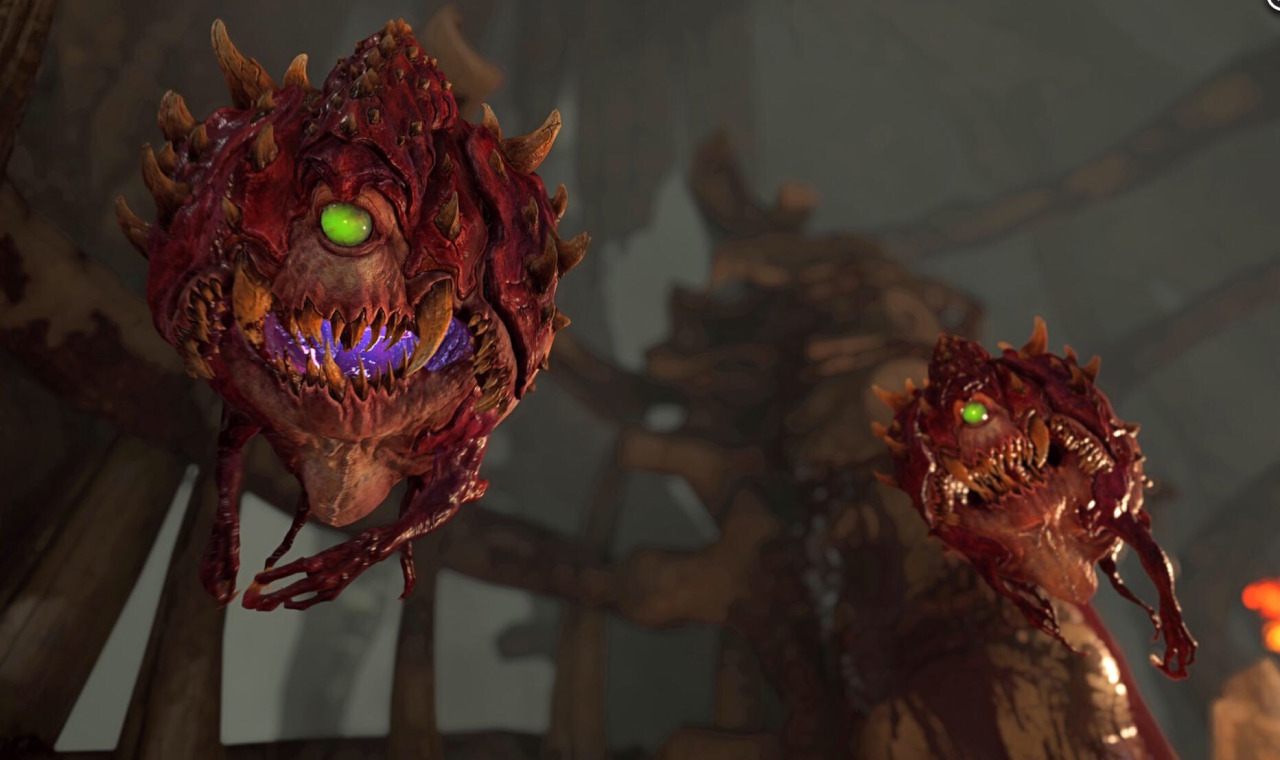 In addition to this the game's large range of secret items, upgrades and locations adds drastically more replayability to the game prompting players to return to the bloody corridors of the destroyed UAC facility. In addition to this, the game arrives with three separate difficulties, each containing a range of different damage alterations as well as differing enemy counts.
Another feature that will keep players returning is the Snapmap mode, which will allow players to both create new maps and modes, as well as taking part in them. This allows players to return to the game's single player component once they have completed the story, enabling them to not only access newly created locations but enter new modes such as tower defence maps, adding drastically more depth and diversity to the game's single player counterpart.Doom also improves upon boss fights in prior games, with several unique bosses each possessing their own weaknesses and abilities. Each new boss will prompt players to formulate a new strategy in order to exploit their attacks and eliminate them and their minions. However, boss battles can also become tedious as reused attacks often lower the excitement of the boss as players can easily avoid them after mapping their attack pattern. However, this flaw is redeemed by the sheer range of enemy variety in the game, with enemies ranging from the slow-moving possessed, to the lumbering tank like Mancubus.
Doom takes full advantage of current generation systems with amazing graphics that allow players to explore drastically larger and more open maps than many current FPS games. These larger maps allow players to locate secret Doom guy toys as well as hidden weapons and upgrades that lie throughout each map. These larger maps also allow players to exploit enemy weaknesses as they are able to form different approaches when attacking. For example the Mancubus requires players to aim for its unprotected head and stomach area if they want to cause damage.
As well as advanced new graphics, Doom's audio features a large range of music and demonic sounds that resonate throughout each location. It is Doom's returning rock soundtrack that adds excitement and tension into the game as players will often encounter new themes during different locations and battles that take place within them. However, the game's audio not only allows for an exciting new theme, but also allows players to locate demons throughout each location as they screech and scream when players are near by alerting them to their presence, as well as their "species" of demon occasionally giving players an advantage when entering a battle. In addition to this players will encounter demon rivalries throughout the game as separate demon types battle one and other allowing players to take advantage in the current battle.
Overall, Doom sees the debut of a range of new as well as returning features regarding both gameplay and audio choices. However, with drastically larger maps that allow players to explore and obtain secrets and upgrades, as well as an in-depth upgrade system Doom is welcomes both returning players, as well as new ones.
REVIEW CODE: A complimentary Microsoft Xbox One code was provided to Bonus Stage for this review. Please send all review code enquiries to press@4gn.co.uk.
Subscribe to our mailing list
Get the latest game reviews, news, features, and more straight to your inbox
Thank you for subscribing to Bonus Stage.
Something went wrong.
Gameplay -

/10

Graphics -

/10

Sound -

/10

Replay Value -

/10
Comments Rating
( reviews)